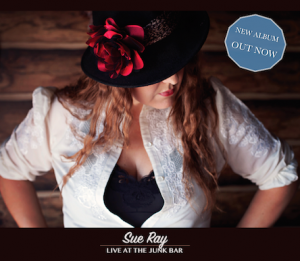 Sue Ray is thrilled to be returning to the Junk Bar for the official
release of her latest album "Live At The Junk Bar". After the success of
her studio album "Red Roses", Sue wished to record a live album to pay
homage to her recent years spent living abroad performing and writing in
Nashville TN.
Choosing to record with respected and award winning producer,
and owner of The Junk Bar Jamie Trevaskis, they recorded an intimate
performance of Sue at the venue in 2015. Naturally Sue chose to return to
it's place of conception to celebrate the album's official release.
Album launch date: 6th January 2017, 7pm @ The Junk Bark, Ashgrove, Brisbane
TICKETS:
https://tickets.oztix.com.au/?Event=69039&utm_source=Oztix&utm_medium=Website
PURCHASE ALBUM HERE:
https://sueray.bandcamp.com/album/live-at-the-junk-bar
or
https://itunes.apple.com/au/album/live-at-the-junk-bar/id1185266813
On the night, Sue will be joined by the enigmatic and beautiful Australian
performer Beth Brown, who is also returning to Australia from Nashville TN
to release her debut EP "Dream Coat" produced by the highly celebrated U.S
producer Brad Jones. Brown joins a list of critically acclaimed Australian
artists including Missy Higgins and Butterly Boucher.
Opening the evening will be award winning U.S singer/songwriter Jilian
Linklater who is best known for recently winning the ASCAP writers series,
then later being selected to perform in their Best Of The Best showcase.
The night will be filled with intimate and moving performances from three
diverse and uniquely talented women.
www.bethbrownmusic.com 
www.jilianlinklater.com
This is an 18+ event.