After a few years on the road, Sue Ray had the opportunity to record a live album with one of her all time favourite producers, Jamie Trevaskis, at his beautiful venue The Junk Bar in Ashgrove Brisbane.
Renowned for his ability to truly capture the vibe and essence of a performers music, the album is an intimate and touching ensemble of songs that truly show the diversity and range of Sue's talent and abilities as a writer, guitar player, harmonica player and performer.
The stripped back versions of her songs are not only captivating, the intensity of the message of each song is so beautifully translated by Jamie's ability to trap the mood of the moment into the recording. You will feel as if you were present in the room the night of the recording!
It is an eclectic collection of acoustic versions of songs off Sue's previous albums Best Beware and Red Roses, combined with a few brand new never released tracks. Most tracks were written by Sue Ray, with exception to a couple she co-wrote with close friends and fellow songwriters Michael David Thomas and Lee Griffin.
The launch was held at The Junk Bar in January 2017!
You can download or purchase a copy at: www.sueray.bandcamp.com/releases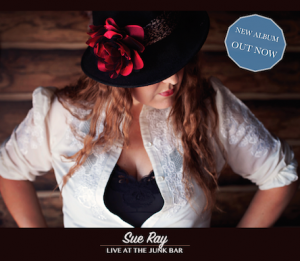 You can also stream Sue Ray's music on Spotify, Pandora and most other global streaming services.